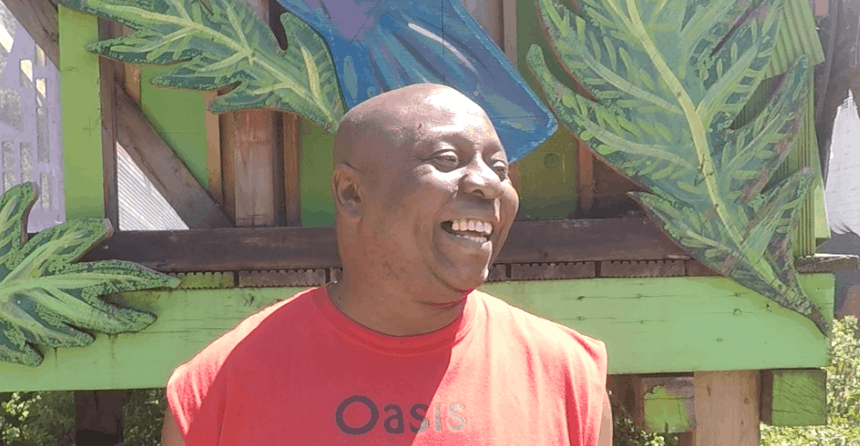 It is with great sadness that we announce the untimely passing of David Ogwe, our Projects Coordinator, on Sunday 3rd of January 2021 from the COVID-19 virus.
David gave many years of service to Oasis. His wealth of knowledge and skill has enabled countless young people throughout Lambeth to explore and play. David was always generous with his time, advice, and ideas. He was quick to smile, never judgemental, and genuinely interested in understanding each individual.
David's journey with Oasis began over 20 years ago when in 1996 he became an assistant at our Karting Project. Following this, he transitioned through several pivotal roles at Oasis, managing many of our core projects, and bringing his tireless commitment and enthusiasm to each. In 2005, David took his positive energy elsewhere, notably the Max Roach Adventure Playground in Brixton and Lambeth Family Support Services. In 2013 David returned to Oasis, and finally, in 2015, he became our ever-reliable Projects Coordinator.
In his role, David aided our project managers with sound advice, development support, and fundraising work. David strove to encourage members of this community, both young and old, to offer their spare time to Oasis, and show them the value of working in the service to their community. He never yielded in his efforts to maintain Oasis as an exciting and relevant place for young people.
David's priority was always his family: his four children and his wife. It was from them that he took most pride. But here at Oasis, his greatest passions were developing our Adventure Playground project and advancing inclusivity within our services. David believed in people and devoted his working life to supporting the young people of Lambeth to thrive. His positive energy has left a lasting impression on everyone here at Oasis. Our thoughts are with his family and friends at this time.
If you are affected by this news and need support contact us at info@oasisplay.org.uk. Barnardo's See, Hear, Respond Hub has a wealth of information and resources to help children and young people through grief and bereavement.
We have created an online tribute page to David, so If you or your family would like to make a contribution to this, or wish to make your condolences to us or David's family, then please do using the link below:
There is also a gofundme page to help support David's family if you wish to contribute.
gofundme.com/f/d4tsey-support-for-davids-family
'It is better to light a candle than to complain about sitting in darkness' was one of David's favourite sayings and it's a good one to remember at this sad time.